The best common practice is to deliver the DCP on a Linux ext3 USB 2/3 compatible hard drive. The Cru Dataport DX-115 hard drive caddy with a USB 2/3 adapter is often used. These hard drive caddies load directly into a lot of digital cinema equipment. Like Dolby/Doremi.
I have written tutorials on how to make DCPs in DCP-o-Matic,
Davinci Resolve Studio and
Fraunhofer Easydcp Creator Plus.
A DCP is a collection of files in a folder with an
ISDCF name like this:
NameOfMovie_FTR_F_EN-XX_INT-TL_51_2K_NULL_20220612_NUL_SMPTE_OV
The physical medium specification for DCPs
The physical medium specification for DCPs is a USB 2/3 external hard drive formatted as MBR Ext 3. (2 TB limit)
Doremi and Sony (and others) support MBR NTFS, but the recommended format is the Linux format Ext 3 with an inode size of 128 that is read and executable only.
Source: ISDCF Disc File Format

Cinema DCP servers/players/IMBs may use older Linux versions, which do not natively support exFAT formatted hard drives.
GUID/GPT hard drives are not supported on older systems but work on upgraded systems. So MBR formatted hard drives are the safest choice.
NTFS can be an alternative to MBR Linux ext3. If you are downloading a DCP and want to ingest it on a player/server it can be simpler to use NTFS.
To format Ext3 hard drives, you can use a Raspberry Pi 400 or run Linux in Virtualbox on Mac or Windows.

DCP-o-Matic also included a Linux-formatted hard drive copier.
Formatting a hard drive to ext 3 with GParted
In terminal. Install and run GParted.
sudo apt-get install gparted
sudo gparted
In Gparted
Make an MBR partition
(Max 2 TB)

Choose the correct hard drive like /dev/sdb
Click on "Device" – "Create a partition table"

Choose msdos and apply. All data on the disk will be erased.
Partition and format it to ext2
The hard drive is now empty, and the partition is unallocated. It will be first formatted to ext2, and then ext3 in the next step.
Right-click the unallocated partition and choose
Create new partition
Choose
Create as: Primary Partition
File system: ext2
Label:DISK234 or something similar
Click on the green checkmark "Apply All Operations"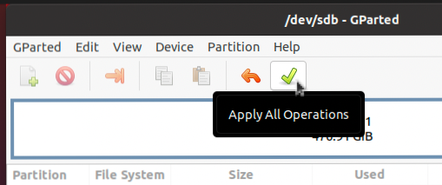 Reformat with inode 128 and ext3
To follow the ISDCF requirements, you can reformat it as inode 128 and ext3
Note the name of the partition (like sdc1) and format it again in terminal with "-I 128"
sudo mkfs.ext3 -I 128 -L DCP123 /dev/sdc1

Copy the DCP in a file manager
Run sudo nautilus in Terminal to get root access
sudo apt install nautilus
sudo nautilus
Then copy the DCP directory to the hard drive in the Nautilus file manager. Drag the folder to the hard drive.
Make the DCP directory read-only and executable
In Terminal, type chmod -R 755 and drag the folder from the hard drive to terminal window, and press enter
sudo chmod -R 755 '/media/knut/DCP123/DCP1'
Verifying DCPs
In EasyDCP player
You can check if the DCP is OK in the trial version of EasyDCP Player
You can mount ext 2/3 hard drives in Windows with Paragon extfs for windows or on macs with Paragon extfs for mac
Drag the DCP to Easydcp player
Choose Asset – Hash Checker
In Hash Checker
Choose start
NTFS hard drives
If you are downloading a DCP to a hard drive and want to ingest it in your cinema, NTFS hard drives from the store work on upgraded cinema players/servers.
You can use Paragon NTFS for mac to format and write to NTFS hard drives on Macs.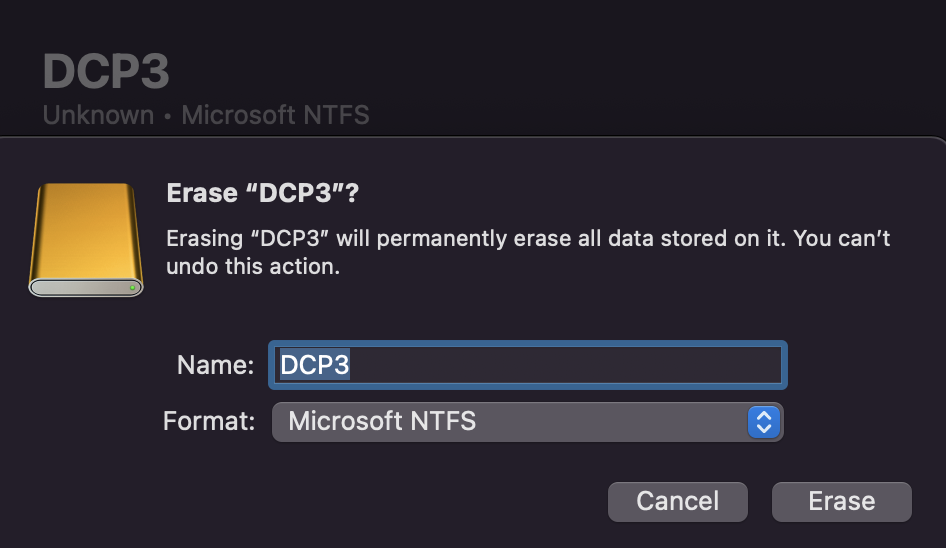 Read more about formatting GPT and MBR NTFS in my ebook.
DCP hard drives:
USB 2/3 HARD DRIVE
DCPs are often delivered on small USB 2/3 hard drives in a small Pelican case:
-Lacie rugged hard drive
Amazon link
-Pelican 1120 case
Amazon link
Together these could look like this:

Note: Y cable:
You can deliver DCPs on USB 2 hard drives, but the DX-115/move dock adapter also works with equipment that does not supply the standard power on the USB 2 port. You can supply a Y cable with the LaCie rugged hard drive to support powerless USB 2 ports. (Cinemas with non-standard USB2 connections most likely have their own adapters)
Cru DCP KIT 3
Pre-built CRU DCP KIT 3 with USB 2/3 adapter and hard drive pre-formatted to ext3:
https://www.cru-inc.com/products/digital-cinema/digital-cinema-dcp-kit-3/
Custom-made Pelican case/CRU DX115 KIT
Use these parts:
The Cru Dataport DX-115 hard drive carrier/caddy
The Cru Dataport Move Dock DX115 USB 2/3 with a USB cable
Western Digital Caviar Black 2 TB 3.5 Inch Hard Drive
Pelican case 1200

Together these could look like this: